Ian Watson's Personal Genealogy Page
Genealogy is no longer an all consuming hobby for me as was in the 1980s but I still enjoy looking at family papers and photos every now and then and visiting the places where my ancestors lived. For my 1980s work on the Pasco family and on the Catawba Indians see my separate genealogy downloads page. The page you are looking at contains information on genealogical topics that I've been working on more recently.
The material below is copyrighted. You are welcome to download any of this material for research purposes. Republishing, reposting, or redistributing this material without my permission is prohibited.
Mollie, Countess Russell
My great-grandfather James Watson's first wife was Mollie Cooke, who later married Frank Russell, 2nd Earl Russell and elder brother of Bertrand Russell; it was their marriage that precipitated Frank Russell's bigamy trial before the House of Lords in 1901.
I published a short biographical sketch of Mollie in the form of a query in Russell: the Journal of Bertrand Russell Studies 23 (2003): 65-68.
Shershev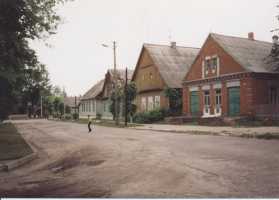 Both my maternal grandparents were born in a village about 200 km east of Warsaw. The village is called Shershev in Yiddish, Szereszów in Polish, Shereshevo in Russian and Sharashova in Belarussian. My grandfather emigrated to Canada in 1905 and my grandmother to Chicago in 1913.
For the past thirty years or so, my mother has worked on and off to preserve the history of the Jewish community in Shershev in which her parents were born. The Jewish community was mostly killed during World War II, and those who survived mostly scattered all over the world. Only a handful remained in Shershev and they are now gone. Shershev has been in Belarus since the end of World War II.
Quite a lot of information on Shershev is now available on the Internet and there is a small community of other interested folks. Information on Shershev can often be found on websites about Pruzhany, the larger town near Shershev. Here are two of the main websites:
The PURO web site. This site is maintained by José Serlin of Buenos Aires, Argentina. It has a very large, well-organized, high-quality collection of material from the entire Pruzhany district, including Shershev. Highlights include "revision lists" (a sort of census record) and a number of memoirs. The site was originally started by Herbert Maletz and José Serlin at www.purs.org, and was accessible only by subscription. With subscription funds Maletz and Serlin managed to finance research in Belarussian archives. Since 2005 Jóse Serlin has maintained the site himself and in 2009 it was opened for free general access.
The CPSA web site. Maintained by Jay Lenefsky, who lives in Israel, it is freely accessible and has some basic genealogical and historical resources on Pruzhany and the surrounding area. Before the PURO web site was opened for public access, it was the best free site available.
Here are a few key sources about Shershev that you'll find on the pages above:
Jacob Auerbach's book The Undying Spark. Jacob Auerbach was born in Shershev in 1903 and wrote this memoir of growing up there and emigrating to the United States around 1920. The memoir is readable, well edited, and concise. The complete text is available on the PURO website. Chapters 16-18 are a short, early version of Moishe Kantorowicz's memoir (Auerbach and Kantorowicz were cousins).
Moishe Kantorowicz's autobiography. Moishe Kantorowicz was born in Shershev in 1923 and was the only member of his family to survive the Auschwitz concentration camp. After the war he emigrated to Canada where he lived in Montreal, Newfoundland, and Toronto, where he died in 2008. He wrote, in Yiddish, a long memoir of his life, which he then translated into English and had edited. It is available on the PURO web site. Moishe also drew a large map of 1920s/30s Shershev, showing each house and the names of the residents when he could remember them. My mother has been working for several years on making this map available on the Internet and hopefully it will be soon.
The Pinkes book. This is a book written by Holocaust survivors from the Pruzhany region and published in Buenos Aires in 1958. Similar Pinkes books were published for Jewish communities all over Eastern Europe. Many libraries hold this book. It is in Yiddish, but all the Shershev sections have been translated into English and are available on the CPSA and PURO web sites.
Citation: Mordechai Wolf Bernstein, Pinkes fun finf fartilikte kehiles, Pruzshene, Bereze, Maltsh, Shershev, Selts; zayer oyfkum, geshikhte un umkum, tsum fuftsntn yortsayt nokh zayer akhzoriesdiker likvidatsye. Buenos Aires: Landslayt-Farayn fun Pruzshene, Bereze, Maltsh, Shershev, un umgegent in Argentine, 1958.
The Yavneh school book. This is a 55-page history of a Jewish school in Shershev that was founded in 1925. Most of it was reprinted in the Pinkes book (see above), but not all (and especially not the pictures). A few years ago I scanned a copy of the book owned by Abraham Auerbach of Queens. I made paper copies which I donated to the YIVO and Stanford University libraries. The whole book is now posted on the PURO website and I have higher-resolution scans if anyone wants copies.
Citation for paper copies: Pinkes fun der algemeyner privater Hebreishe Folks-shule "Yavneh" bay "Tarbut" in Shereshev: gevidmet der 10-yeriker ekzistents fun der shule. Shereshev: Eltern-komitet bay der "Tarbut"-shule in Shereshev, 1935.
The Stones of Sharashova. A few years ago my cousin Celia Denov Bell of Toronto organized the fencing of the Jewish cemetery in Shershev. She created a 15-minute documentary film about the project, which can be downloaded from the PURO site, as well as writing an article for the JewishGen website.
Last updated December 2009